Air, Architecture + Other Climates
[57.0°to 71.0° N : Norway] - 2019/20
John Cook, Ben Pollock + Laura Nica
About
The context of our global climate and ecological emergency provides the foundation for all DS18 investigations. We use the architectural project as a tool to test the effects of changing environmental processes upon life and design, and to communicate and represent these intangible global issues to new audiences in new ways. We aim to ground projects through directed and critical levels of research, using experimental diagrams, cartographic imaginations and computational tools to record, analyse and communicate the connections between the vast assemblage of project themes, relationships, scales, actors and material.
This year commenced a new chapter for DS18, as we evolved our investigations vertically through the material of ground and water, upwards to air and our outer atmosphere. The studio's wider framing was formed around three interlinked climatic phenomena: the Arctic Circle, the Ferrel/ Polar air cells, and the Polar Jet Stream. These entwined atmospheric systems shape the climates and weather patterns throughout the Northern Hemisphere, and are now destabilising and transforming unpredictably as a result of man's anthropogenic exploitations.
Stretching 13° of latitude within this belt of volatile climatic activity, Norway was the focus for this year's investigations. As the country braces for our impending climatic breakdown, its landscapes are being reshaped, ecologies disturbed and urban settlements, agriculture and industry transformed. It is within this context of shifting territories, colliding boundaries and emerging practices that students were asked to explore the threats, risks and opportunities of the 'other climates'.
Students researched at the global, regional, and territorial scales. They constructed datasets, employed mapping and experimental micro simulations (CFD) to uncover scenarios, characters, and narratives within this context, as well as the atmospheric constituents they are entangled with. During the field trip, students furthered their research and contextual understanding through workshops held with 'The High North Research Centre for Climate and the Environment' in Tromsø, and 'The Norwegian Institute for Air Research' in Kjeller. All of which was used to inform the second semester's thesis project; to contextually explore these complex scenarios and interacting agents through novel programmatic assemblies, narratives, representation, and architecture.
<full brief avaliable here>
OPEN Exhibition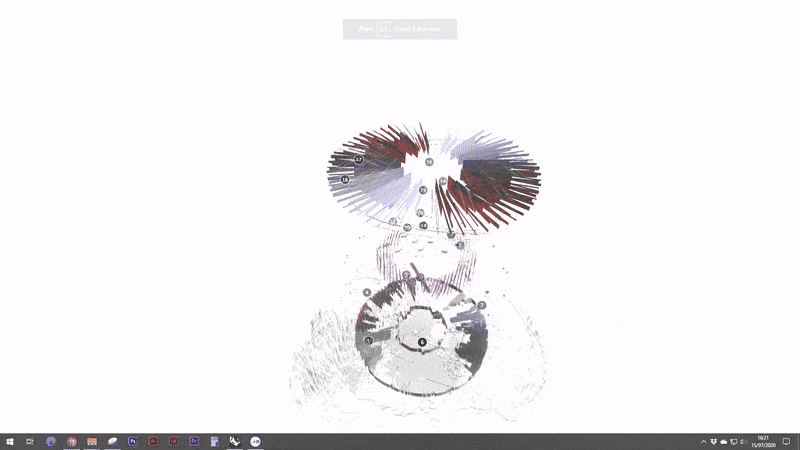 Arctic Ecologies: An Atmospheric Assemblage
(Link to full model & description
)
Project Sites

Special Thanks

Ben Ashby & Shahid Padhani @ ARUP's Advanced Digital Engineering Group
Aurelien Thomas @ Jestico + Whiles
Kathryn Donnelly @ High North Research Centre for Climate and the Environment (FRAM)
Leonora Tarrason @ Norwegian Institute for Air Research (NILU)
Namik Mackic @ Oslo School of Architecture and Design (AHO)
Matthew Dalziel @ Oslo Architecture Triennale (OAT)
Guest Critics
Aidan Hermans (Grimshaw Architects)
Alex Gordon (Jestico +Whiles)
Alex Watts (Eric Parry Architects
Alice Thompson (MATA Architects)
Ben Summers (RCKa)
Calvin Sin (SCI-Arc)
Carlos Bausa Martinez (Zaha Hadid Architects)
Charity Edwards (Monash University)
Cid Schuller (Undercover Architecture)
Constance Lau (UoW DS03)
Corinna Dean (UoW DS2.1)
Druv Gulabchande (HFM/ Narrative Practice)
Elantha Evans (UoW DS11)
Filip Visnjic (fvda /creativeapplications.net)
Fiona Grieve (Scott Brownrigg Architects)
Iulia Stefan (AA, Research Fellow)
James Mak (dRMM)
Jon Goodbun (UoW, Rheomode)
Jose Alfredo Ramirez (AA Landscape Urbanism, Groundlab)
Katt Scott (dRMM)
Lindsay Bremner (Monsoon Assemblages)
Martyna Marciniak (UoW DS25)
Matthew Rosier (ACAN)
Mike O'Hanlon (DSDHA)
Oscar McDonald (Space Syntax)
Philip Hurrell (Millar+Howard Workshop)
Rachel Wakelin (Buckley Grey Yeoman)
Raymonde Bieler (White Arkitekter)
Richard Difford (UoW DS23)
Richard Portchmouth (Birds Portchmouth Russum)
Roberto Botazzi (UCL / BPro),
Toby Burgess (UoW DS10)
Tom Benson (Senseable City Lab, MIT)